Creative Works Studio
---
Creative Works Studio (CWS) is operated by Good Shepherd Non-Profit Homes Inc. as a community arts-based studio. The studio was founded in 1995 by Isabel Fryszberg, an occupational therapist and practicing artist with a vision that these two occupations could have significant benefit for persons living with mental illness and/or addictions. The Creative Works Studio's mandate is to provide individuals living with mental illness and/or addictions a place to heal through the power of artistic expression.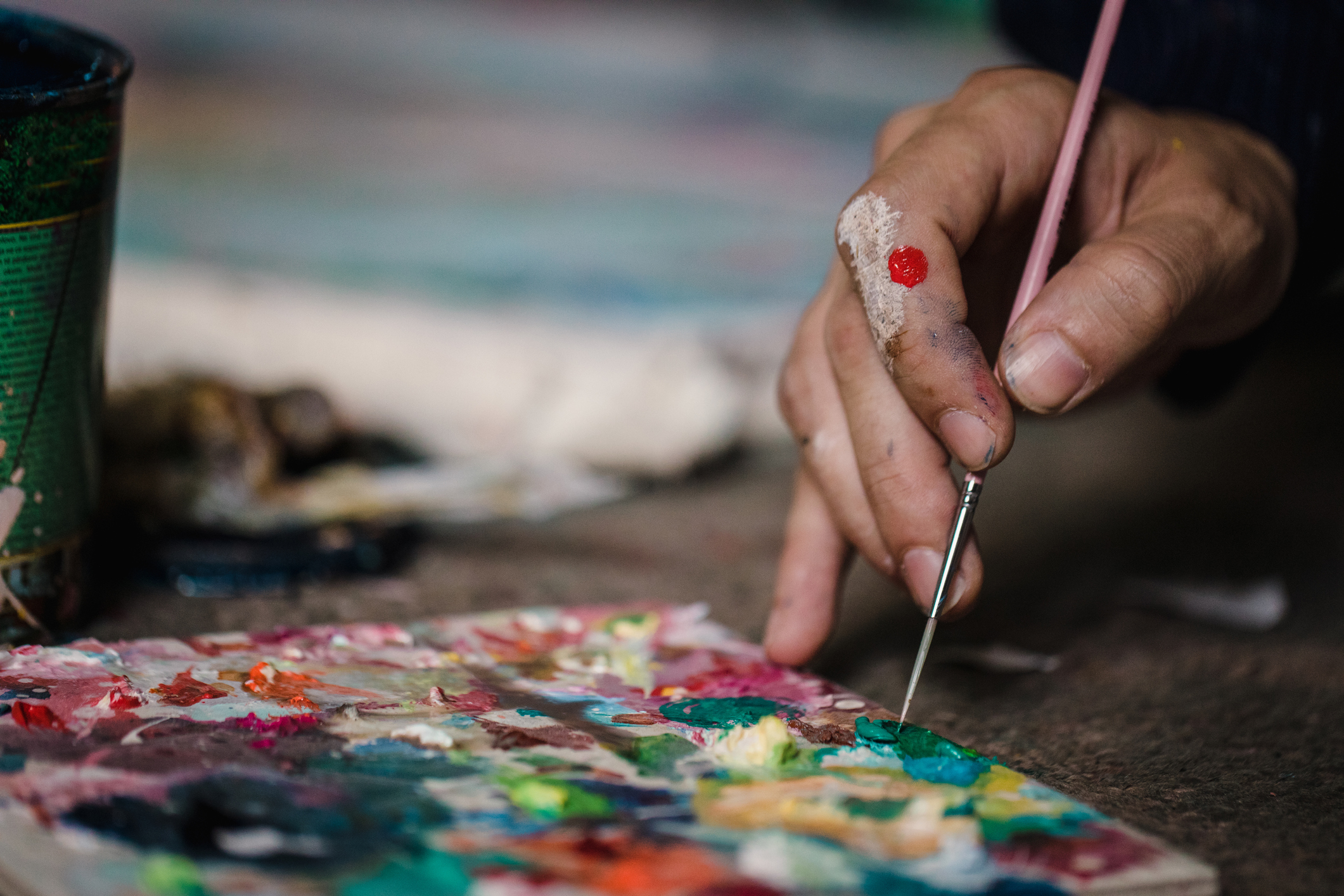 Creative Works Studio
793 Gerrard Street East
Toronto  ON  M4M 1Y5
Phone: 416.203.2711  x7559 or  x7560

Program Manager: Claudia Forbes 
Studio Lead: Ximena Moreno
---
Creative Works Studio Referral Form
Creative Works Studio
Creative Works Studio was pioneered by an occupational therapist and practicing artist who envisioned combining occupational therapy and the arts. The Studio is a community-based therapeutic program offering healing and recovery through the arts for people living with severe and persistent mental illness.
The Studio welcomes clients from mental health agencies and helps them return to an active life. Each person is treated as an artist first and is encouraged to reach their highest potential through inspiring arts initiatives. Their life skills and ability to cope in the community also improve as a result.
The Studio is involved in mental health research and in community and educational outreach to reduce the stigma of mental illness. Learn more about Creative Works Studio by watching this short video.
Watch the trailer for Creative Works Studio's documentary What's Art Got To Do With It?
Download the Creative Works Studio brochure.
See the Creative Works Studio Calendar for: April 2023
About Creative Works Studio members:
• Men and women come from diverse educational and socio-economic backgrounds
• 95% of the Studio members have improved their life skills and sense of well-being, through increased productivity, participation, and socialization, while sharing in the studio environment
• Many members have entered art shows and have sold their work
Donations
We gladly accept monetary and physical gifts. Every little bit counts.
Note: We issue charitable tax receipts for monetary donations of $20 or more. In some cases, we can issue charitable tax receipts for physical/non-monetary gifts. Please inquire.

Memorial Donations
If you have any questions or would like to set up a memorial donation for your loved one, please call us at 416.203.2711  x7559 or  x7560.

General Monetary Donations
We accept donations and gifts and in some cases can provide tax receipts for them.
Charitable No.: 12911 4377 RR0001
Please make cheque payable to: Good Shepherd Non-Profit Homes Inc. With Creative Works Studio in the memo line
Please send cheque to:
Creative Works Studio c/o Good Shepherd Non Profit Homes
550 Queen St E Unit 315
Toronto, ON M5A 1V2
You can also donate online: www.goodshepherdcentres.ca/donate-now
Physical/Non-monetary Donations
Download the Creative Works Studio Wishlist
Creative Works Studio is currently in need of the following items:
Large items:
multi-media projector
professional photography lighting and screen backdrop
refurbished or gently used computers or computer gear
laptops or desktop computers (capable of running graphics software programs such as Photoshop)
small portable washing machine
Ongoing program supply needs:
art supplies
magazines for collage projects
TTC tokens
canvas and stretcher bars
passes to museums, galleries and events
coffee
healthy snacks
Sponsorships:
for art show application fees
for a field trip for our members to visit Peace Ranch
Charitable No: 12911 4377 RR0001
Art Gems
Art Gems is the annual fundraising art auction in support of Creative Works Studio. Since 2007, your generosity and support has enabled Art Gems to raise more than $1.8 million for this life-changing mental health outreach program. Together we promote positive change in the lives of the many Studio members, who experience healing, increased self-esteem through their participation in the arts.
For more information, visit https://artgems.ca/ or follow us on Instagram